Irish election: voters await first television debate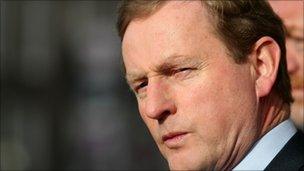 Voters in the Republic of Ireland are counting down the days before they elect their new parliament on 25 February.
On Tuesday evening, the campaign to win the hearts and minds of weary Irish voters moves up a gear when the first of three leaders TV debates takes place in Dublin.
It is shaping up to be an unusual event with the most popular party in the opinion polls declining an invitation to participate.
The main opposition party Fine Gael has decided to opt out of tonight's media opportunity for what it claims are "unacceptable comments" made by journalist, Vincent Browne, who works for the station.
When the invitations were recently issued by TV3 to the ruling Fianna Fail and Labour parties, their respective leaders Micheal Martin and Eamon Gilmore accepted the opportunity and will go head to head later.
However the Fine Gael leader Enda Kenny gave an emphatic "no" - much to the dismay of everybody who understands the impact that television can make on an undecided electorate.
From a strategic point of view, Fine Gael finds itself in the unusually comfortable position that it can actually do without TV debates in this election.
At present it is fluctuating around the 34% mark and is thought likely to be the biggest political party in the next parliament.
In real terms, all Fine Gael has to do between now and election day is avoid potential "landmines" or embarrassing Gordon Brown-Gillian Duffy style moments.
A three-way debate on RTE will see the Fine Gael leader step up to the rostrum in two weeks time but in the meantime, an empty chair on TV3 will represent his absence.
Will the debate make any real difference in a country where a significant number of voters have already made up their mind?
Whatever happens, the TV3 combat will probably have faded deep into the minds of irate and angry voters by the time polling day rolls around.