Belfast woman cleared of stealing shirts worth £5.24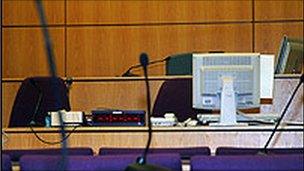 A woman has been cleared by a Crown Court jury of stealing a pack of three school shirts worth £5.24 in 2009.
The court heard Eileen Millar, 40, was arrested in a west Belfast supermarket moments after putting spare change in a charity box and paying for groceries.
Mrs Millar said she had made "a genuine mistake" and she "completely forgot" about the pack of shirts which she had hung on the back of the trolley.
The 11 jurors unanimously found her not guilty.
The court heard Mrs Millar explain that she had not wanted to get the shirts soiled by other goods, and that she'd also been distracted by her 13-year-old son, who was "acting up" by playing with another trolley at the checkout.
"It was a genuine mistake. I honestly didn't see it (the pack of shirts) with the Tesco's bag and the handbag there," she maintained.
Later she refuted prosecution suggestions it was a simple case of her "giving way to temptation".
However, the jury also rejected this suggestion and instead accepted Mrs Millar's protests that it was the "one thing I have never done and never would do".
Mrs Millar's solicitor criticised those who complained about the cost of defendants choosing to opt for a jury trial.
Solicitor James Hillis claimed that Mrs Millar, from Lyndhurst View Close in Belfast, was forced to elect for a jury trial after the failure of the prosecution authorities to look at her case.
"This was a woman seen on Tesco's own security cameras putting money in a charity box before being stopped," he said.
"Then she is heard on the interview tapes pleading that she'd made a genuine mistake in not paying for the shirts.
"We tried to save money in this case, but the only thing the authorities were willing to offer was 'a caution', but to accept a caution would have amounted to an admission of guilt, when she knew she was innocent."
Mrs Millar said she was "just glad it is all over, the last 18 months have been a living hell for me and my family".
Her husband Mark added that it was "ok for people to shout about the cost of cases, but we believe it took a jury to see and hear the evidence to keep a good name intact".
"People only see and may think this case has involved just a few days, but it has been 18 months of stress, sleepless nights and pure anxiety for us," he added.
At the start of the Crown Court case on Monday, prosecution lawyer Ian Tannahill told the jury it was her right regardless of whether she was accused of taking £100, £1,000 or simply a pack of shirts.
He added that if, like Mrs Millar, those in the jury or any member of their family were accused of being a thief, they too had the right to demand the matter be settled by a jury of their peers.