Dungannon man denies trying to kill mother and daughter with taxi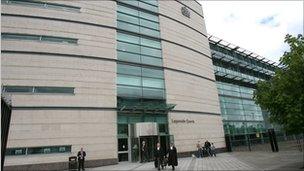 A man has denied trying to kill a mother and daughter as they attempted to save the life of a dying man.
Giving evidence at Belfast Crown Court on his own behalf, 24-year-old Kevin Toye accepted he was driving the hijacked taxi when it ploughed into Martina and Emma Donaghy, causing major lower leg injuries.
However, he claimed he had not seen them on the road as they tended to Eamon Hughes who was lying in the middle of Lisnahull Road in Dungannon.
The 48-year-old had been stabbed in the chest as he walked home from his daughter's 18th birthday party on 12 September 2008.
Mr Toye, from Windmill Drive in Dungannon is on trial for his murder alongside two other Dungannon men, 24-year-old Liam Murray, from Windmill Court, his cousin Martin Murray, 23, from Windmill Drive as well as William McDonagh, 25, from Kew Gardens in Ballymena.
All four are also charged with attempting to murder the mother and daughter and one charge of affray.
Prosecutors allege that Martin Murray stabbed Mr Hughes in the chest and Mr Toye tried to kill the Donaghys using the hijacked taxi as a weapon.
A fifth man on trial, 41-year-old Kevin Murray from Lisnahull Gardens, in Dungannon, and who is an uncle to the other two Murrays, denies attempting to murder Mr Hughes' son Kevin after he allegedly shot him with a crossbow bolt.
On Tuesday Mr Toye told defence QC Terence McDonald that given his state of drunkenness, he should never have been driving that night and also that his driving had been "disgraceful".
He claimed that after the taxi had been hijacked by Mr McDonagh, he got into the driver's seat and turned the car around, but that despite the broken windscreen, he could still see out.
However, Mr Toye maintained that he did not see anyone in the middle of the road and when asked directly if he would ever have "deliberately swerved the car...in order to kill" the Donaghys, he denied he would have done so.
Martina Donaghy suffered a broken left leg, a shattered right knee and a gash to her upper thigh. Both of her daughter's ankles were broken, her left leg was fractured, her left knee was dislocated, there was a severe laceration to her head and injuries to her right arm and hand.
Mr Toye said that having heard the medical evidence of the injuries he had caused he was "genuinely remorseful" for what had happened.