Economic Research Institute of Northern Ireland to close
By Kevin Magee
BBC News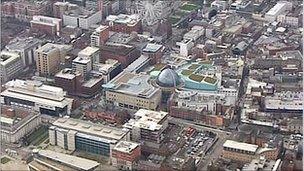 An economic think tank set up to give advice on the NI economy is to be closed down next month.
Twelve staff are to lose their jobs at the Economic Research Institute of Northern Ireland when it closes.
The ERINI was set up in 2004 to carry out independent research aimed at improving policy making.
It cost about £1m a year to run, but the Office of the First and the Deputy First Minister is refusing to fund it any longer.
It says an independent review carried out more than a year ago concluded that the institute failed to fulfil its mandate and did not represent value for money.
As part of the public sector spending squeeze, a budget review group is currently examining the role of all arms length bodies with an view to rationalising quangos before May.
NIPSA's former General Secretary, John Corey, represented the unions on the ERINI board.
He said NIPSA had made "extensive representations" throughout 2008 and in 2009 to prevent the body from closing.
"What led to the closure decision, we believe was that there was a request that the body should re-focus its activities from primary research to concentrate on economic policy, and that required restructuring of the small body but OFMDFM was unable to finance that."
Mr Corey said its closure would have an "impact".
"We believe there is a place for an independent body, wholly independent of the assembly and the executive to be there to undertake economic policy," he said.
"From a trade union perspective there is a significant loss from this body's role being ended.
"It does have a dramatic impact on the staff, many of whom are experienced, who now face compulsory redundancy and that is the saddest element of this."
Related Internet Links
The BBC is not responsible for the content of external sites.