Tillie plan 'needs public money'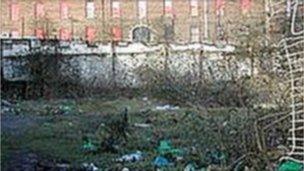 Plans for a £10 million project on the former Tillie and Henderson factory site in Londonderry may be scrapped if public funding is not granted, according to the developer.
The property company, Andras House, will lodge the final planning application in the next four weeks.
It includes proposals for a hotel, apartments and retail units.
The company's director, Ranjesh Rana, said the plans were dependent on funding from Invest Northern Ireland.
"This is an important site for Derry but it is also an expensive site to develop," he said.
"The market is where it is at the moment and the banks aren't falling over themselves, so grant assistance will be required.
"We haven't applied for funding yet. Invest Northern Ireland need to see planning due to be secured before they will consider an application.
"If Invest Northern Ireland doesn't fund this site, we would like to see what they are spending money on."
Invest Northern Ireland said it had not received a business plan regarding any proposed development at the Tillie and Henderson factory site.
"All offers of support from the organisation are dependent upon the evaluation of a business plan which demonstrates that the project will deliver maximum economic benefit," a spokesperson for the organisation said.
The Tillie and Henderson site has lain empty since the former factory, a listed building, was demolished after a fire in 2003.
An earlier development plan was rejected in 2005.
SDLP Councillor Helen Quigley said it was important that the community is not given "false hope" over plans for the site.
"I think the people of this city are sick to the eye teeth of the false promises," she said.
"I do believe however this time much more work has been done.
"I would look forward to a positive outcome."
Sinn Féin Councillor Maeve McLaughlin said the project has the potential to be the source of much local employment.
"It's critical given the location of this site that we get this right," she said.
"We must ensure that the construction of this hotel, apartments and retail complex is subject to local unemployed people getting access to those jobs.
"We must also ensure that the entire funding package is in place for the whole project."