Chairman wants Brandywell revamp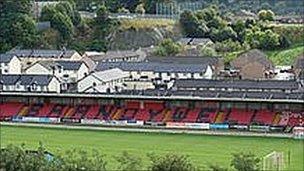 The Chairman of Derry City Football Club has warned that the Football Association of Ireland could be close to declaring Brandywell Stadium unfit.
Philip O'Doherty said conditions at the council-owned ground have become an "embarrassment".
Derry City Council is currently carrying out a feasibility study on how much the renovations will cost.
Mr O'Doherty said the stadium needs a complete refurbishment as soon as possible.
"Every year when we apply to get into the FAI they do a survey of the ground and the list of unacceptable items is getting longer all the time," he said.
"There's also been health and safety issues, particularly around the wall on the Brandywell Road side. It needs repaired urgently in case it collapses and that alone will cost around a million pounds."
Mr O'Doherty added that he was hopeful that Derry City Council will deliver on the stadium project.
"It's worth reminding everyone that the football ground is owned by the council and always has been," he said.
"We are just one of many tenants. We pay a rent so we are looking for the council to deliver a stadium that is fit for purpose.
"It's embarrassing bringing supporters to the ground. The toilets are totally unacceptable."
He added: "We have a population of 106,000 people and we need to have a better showcase for football in the city."
SDLP councillor Helen Quigley said she was "confident" that plans to refurbish Brandywell will go ahead.
"The issue has been on the agenda for quite some time," she said.
"We don't know how much this will cost the council but there is an appreciation by all involved that we have missed funding opportunities.
"We have to make that ground acceptable and need to focus on that as a matter of urgency."
Derry City Council said "significant progress" had been made since it agreed to look at redeveloping the Brandywell stadium and surrounding area in September 2009.
"A report will be presented to the Strategic Review Group for consideration in the coming weeks," a council spokesperson said.
"The report will include a number of options for moving forward with the project.
"These options will be discussed in detail with all users prior to being brought before councillors later in the spring."