Ex-soldier charged with rape and false imprisonment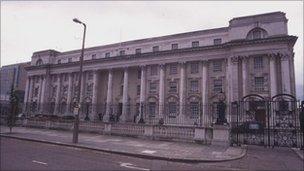 An ex-soldier deafened by a bomb in Afghanistan has appeared in court in Belfast charged with rape and false imprisonment.
Gerald Verner, 23, of Forthriver Park, is also accused of inflicting grievous bodily harm, sexual assault and threats to kill against the same woman.
The court heard the alleged offences were committed in Belfast on Monday.
Mr Verner, who denies the charges, was remanded in custody until next month.
A detective told Belfast Magistrates' Court that the incident has had a "devastating effect" on the woman he is accused of raping.
The officer also claimed there was a risk of interference with witnesses, and that the accused had shown "a clear disregard for discipline and adherence to rules and regulations" during his military service.
Defence solicitor Denis Moloney said Mr Verner claimed to have had consensual sex with the alleged victim.
It was disclosed that he had served in Afghanistan before being caught up in a bombing in Kabul.
The blast was said to have left him deaf in one ear and with only partial hearing in the other.
Mr Moloney said he was then discharged in exemplary circumstances.
"He has gone through the wars, and I say that quite literally," he told the court.
The lawyer also suggested the accused could be ordered to stay at another location well away from the alleged victim to ensure no contact.
But District Judge Fiona Bagnall denied bail due to the risk of interference with the woman.