County Antrim developer's sites in receivership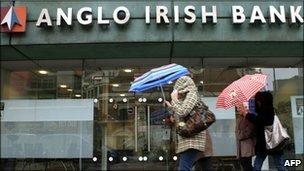 Anglo Irish Bank has appointed a receiver to two sites owned by the prominent County Antrim developer Mervyn McAlister.
The sites at Greenhall Highway in Coleraine and Dunlady Road in Dundonald were the property of McAlister Construction Ltd.
The company has a registered address at a firm of accountants at Queen Street in Coleraine.
Mr McAlister is the sole shareholder.
A number of other firms which he controls are based at the same address in Coleraine.
Mr McAlister, a house builder and hotel owner, came to prominence in 2007 when he announced plans to build a 37 storey skyscraper in Belfast which would have been the tallest building in the city.
However the development was blocked by planners, a decision Mr McAlister is appealing.
The appeal hearing for the Aurora project is due to be held next month.
In December Mr McAlister announced he was temporarily closing his Ballycastle hotel, the Marine.
All of Mr McAlister's companies are continuing to trade.
A bank appoints a receiver when it doubts a company's ability to repay all of its debts and wants assets sold so that it can get its money back.
The receiver also takes control of any rental income the properties are earning.