Court told Howell dropped electric cable in wife's bath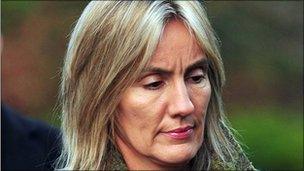 A court has heard that Colin Howell, the former dentist convicted of the double murder of his wife and his former lover's husband, dropped an electric cable into his wife's bath.
Coleraine Crown Court was told it happened months before Howell poisoned her with carbon monoxide fumes.
The revelation was made at the trial of Hazel Stewart, 47, who is also accused of the double murder.
She denies murdering Trevor Buchanan, 32, and Lesley Howell, 31.
Their bodies were found in a fume-filled car in Castlerock, County Londonderry, in May 1991.
Former dentist Colin Howell has already pleaded guilty to the charges and was jailed for 21 years.
Mrs Stewart, from Ballystrone Road, Coleraine, denies the murder charges.
She also denies entering into a joint-enterprise with Howell to murder their respective partners.
She told police it was his plan and that she wanted nothing to do with it.
At the time, it was thought that the two spouses had died as a result of a suicide pact.
The fact that they were murdered only came to light two years ago, when Howell, 51, confessed to the killings following a discussion with members of his church.
Howell confessed to gassing them while they slept in their own homes before driving the bodies to the house of his wife's late father and staging an elaborate scene to make it look as if they had taken their own lives.
On Wednesday, Mrs Stewart's trial heard evidence from a friend of Howell's wife Lesley. She said Lesley told her that Howell had dropped a live electric cable into her bath.
She said she had informed police investigating the Castlerock deaths in 1991 because she was suspicious of the former dentist.
In court on Wednesday, a letter written by Colin Howell to Hazel Stewart shortly after the funerals of their spouses was also read out.
Howell had given it to a member of Coleraine Baptist Church and asked him to pass it on to Hazel Stewart.
The go-between said he became suspicious, steamed it open, read it and then made a photocopy.
In the letter, Colin Howell wrote that he was sorry he did not love his wife, Lesley, enough, adding: "I've taken a mother away from her children but God will provide another for them. I only hope and pray it will be you."
A copy of the letter was given to the pastor of Coleraine Baptist Church at that time who was counselling Howell.
The jury also heard from a police colleague of Trevor Buchanan who said he told him that he believed his wife, Hazel, was trying to end the affair but Colin Howell was pestering her.
Members of the Buchanan family who were sitting in the court room at the time began to cry as the witness described how Trevor Buchanan was finding it difficult to cope with the affair, that he loved Hazel, loved his children and wanted his marriage to work.