Senior dental consultant 'to sue Belfast health trust'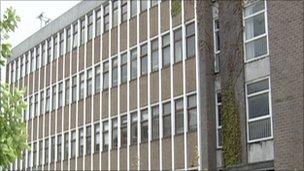 A senior consultant who is being investigated over his work at Belfast's Royal School of Dentistry is threatening to sue a health trust and its medical director.
Professor Phillip Lamey, a dental specialist, has been the subject of an inquiry into events which led to the precautionary recall of more than 100 patients.
He has put the Belfast Health and Social Care Trust and its Director Dr Tony Stevens on notice of his intention to issue legal proceedings.
Prof Lamey is also seeking a retraction and an apology for what his lawyer described as "one of the most unfair, intense and vitriolic media onslaughts in recent times".
Prof Lamey's lawyer, Paul Tweed, has said his client should be allowed to defend his professional conduct and reputation before an impartial and appropriate forum.
A spokeswoman for the Belfast Trust said they had no comment to make.