Quangos 'cost Executive £7bn' - Stormont commitee told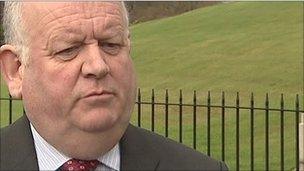 Quangos are costing the Northern Ireland Executive about £7bn a year, a leading official has told a Stormont committee.
Jackie Kerr, who works for OFMDFM, said the Executive's budget review group was currently examining the costs of arm's length bodies and her own department was seeking to make efficiencies.
Jimmy Spratt, DUP, said the £7bn figure was "scary".
He claimed it was the legacy of direct rule ministers.
Mr Spratt said Victims' Commissioners Brendan McAllister and Bertha McDougal had written to OFMDFM asking exactly how it envisaged the commission could make savings of £1.7m per year.
Ms Kerr said a number of cost-cutting options were being considered, including scrapping the Northern Ireland Memorial Fund because its role would be taken over by the new victims' service.