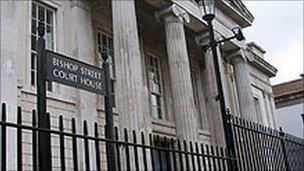 A district judge has said appropriate institutional care must be provided for prolific offenders who are addicted to drink or drugs.
Barney McElholm made the remark while sentencing Patrick Farren of Stoneburn Place at Londonderry Magistrates Court.
The alcoholic, who has 153 previous convictions, admitted disorderly behaviour and assaulting a police officer in Derry last year.
The 48-year-old received a five year suspended sentence.
Mr McElholm said it was "regrettable" that no appropriate institution existed in Northern Ireland to treat addicts who are also prolific offenders.