Nations Cup revives memories of banter, blood and thunder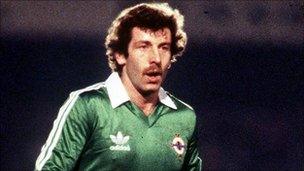 The Carling Nations Cup, which got under way at Dublin's Aviva Stadium on Tuesday, has revived memories of one of British football's best-loved competitions.
The old British Home Championship came to an end in 1984 after 100 years of blood and thunder international football.
The last champions were Northern Ireland - made up of many of the team which stunned Spain and did so well in the 1982 World Cup.
Northern Ireland legend Gerry Armstrong played in the teams which won in 1984 and 1980.
He said the championship offered an experience unique in football, as clubmates regularly took each other on in international matches.
Armstrong, who played for Spurs and Watford in the English first division, said his favourite part was "the banter in the changing room between the English, Scottish, the Welsh and the Irish".
"In the gym on a Friday (at Spurs) it was England against the rest," he said.
"When you came up to the British Championships there was always plenty of banter and competitive edge to it.
"We had 8-a-side in the gym and it was blood and thunder - there was blood everywhere, slide tackles on a concrete floor."
He said international football could often be daunting, but playing against players you came up against week-in-week out in club games helped a lot.
"The British championship was a fantastic stepping stone - it takes a lot of the pressure off, playing against footballers you're familiar with," he said.
In the 1970s and 80s some of those players were as good as any in the game.
"The Scottish side was unbelievable. You played against the likes of Joe Jordan and Kenny Dalglish, John Wark and Graeme Souness in those days - they were a star-studded side.
"England was just full (of top players) - the Colin Bells, the Ray Wilkins, the Glen Hoddles - the talent they had, the goalscorers - Trevor Brooking, Kevin Keegan, Tony Woodcock, Trevor Francis, these were world-class players."
The atmosphere at the games was another unforgettable part of it for Armstrong.
"Absolutely brilliant atmospheres, particularly when we played at Wembley against England it was always a full house," he said
"To be part of winning it twice was absolutely brilliant."
In Tuesday's night opener in the new Nations Cup, a strong Republic of Ireland team beat Wales 3-0 at a less than full Aviva Stadium.
Northern Ireland's opening game against Scotland on Wednesday ended in a dismal 3-0 defeat - which could in part be explained by the number of players who had withdrawn from the game.
"It's a difficult time to play in February, you've got players who've just had a really tough Christmas and new year, with the FA Cup and Scottish Cup thrown in, you're going to have players picking up injuries," Armstrong said.
"I know as assistant manager (of NI) in the past that's always been the way."
There will be four games in a week at the end of May and Armstrong said with the domestic season over, more players should be available.
One of those games will pit the two Irelands against each other in Dublin on 23 May.
"That'll be a cracking game. You'll get a really good turnout for that," he said.
"The two Irelands playing each other - they've always been good games.
"I was fortunate enough to play against them in the 70s - I scored the first goal between the two Irelands when we beat them 1-0. They're always really keenly contested games.
"And the banter in the changing rooms - the lads will be winding each other up at their respective clubs. It'll be good fun."
England is not taking part in the Nations Cup, but last year, the Football Association said it was in talks with the other nations about taking part on a one-off basis in 2013.
Armstrong said Northern Ireland would only gain by taking part in the tournament and hoped it would continue beyond 2013.
"I would say we should stick at it and give it a good go over the next five or six years," he said.