Belfast solicitor facing fraud charges denied bail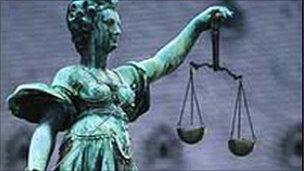 A Belfast solicitor accused of being part of a major fraud racket helped move £108,000 across the Irish border, the High Court has heard.
Prosecutors also alleged Ho Ling Mo bought a £20,000 diamond necklace and rings as part of a desperate attempt to empty her office bank account.
It was further claimed she got rid of a laptop computer containing evidence of false claims for legal aid payments.
But counsel for Ms Mo said she had suffered years of extortion.
She was beaten with a hammer and had a gun fired at her office during the campaign against her, it was alleged.
Ms Mo, 39, of Oakwood Park, Belfast, is charged with acquiring, converting and transferring criminal property.
She is further accused of false accounting, fraud by false representation, assisting unlawful immigration by organising sham marriages, cheating the public revenue, and conspiracy to conceal criminal property.
The solicitor, who runs her own legal practice in Belfast, denies the offences.
She was refused bail due to fears she may flee if released from custody.
During her application a judge heard how further evidence had emerged since she was arrested along with a number of other suspects last year.
One of the detectives investigating alleged fraudulent legal aid applications said a co-accused claimed she was asked by Ms Mo to lodge cheques in a Dundalk bank account.
A total of £108,000 was transferred, although its current whereabouts is unknown, he told the court.
The court heard how a restraint order on Ms Mo's assets was extended earlier this week to cover two more bank accounts, including one used for her legal practice.
But before that came into effect she phoned a jeweller, seeking to pay him £8,000 in advance for two rings, according to the prosecution.
She also paid out £20,000 for a diamond necklace as part of "her desperate attempts to deplete her office account".
It was alleged that Ms Mo owns property in Hong Kong and was planning to flee Northern Ireland.
Charles McCreanor, defending, said his client claimed to have been subjected to extortion stretching back to 2003.
Mr McCreanor added: "She felt she could do nothing about it, and was deeply concerned for herself and her family."