Health trust closes wards due to norovirus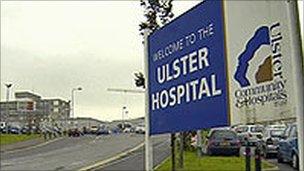 The South Eastern Health and Social Care Trust has had to close some wards to new patients at Lagan Valley and the Ulster hospital due to the norovirus.
The trust had also restricted visitors at some of its hospitals due to the effects of the winter vomiting bug.
The trust said "significant increases in bed pressures had resulted in some patients experiencing a delay in receiving a bed in a ward".
Thirty-three members of trust staff have also been affected by the bug.
Charlotte McArdle, Director of Nursing, Primary Care and Older People at the trust said in recent weeks there had been an increase in patients with the norovirus, also known as the winter vomiting bug.
"When a patient has symptoms of that bug we have to work very quickly and act very swiftly to try to isolate that patient," Ms McArdle said.
"On occasions that means we have to isolate all or part of a ward and restrict the entry to that ward and that means we have fewer beds available for admissions.
"This bug escalates so quickly and is so contagious that it can be hard to manage," she added.
Ms McArdle confirmed that Wednesday was the first day this week that there were no patients awaiting ward places on trolleys.
In a statement the trust said: "We would ask that individuals visiting patients in our facilities should avoid doing so if they have vomiting and diarrhoea, cold or flu symptoms."
"Members of the public who are attending our Accident and Emergency departments should advise the staff on arrival if they have gastrointestinal symptoms.
"This is extremely important to ensure that any condition considered to be of an infectious nature is identified and managed promptly."