Larne Independent Councillor switches to Alliance Party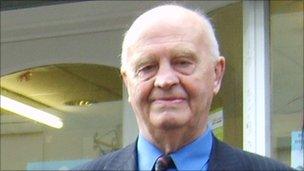 An Independent Larne Councillor, Michael Lynch, has joined the Alliance Party.
Mr Lynch, who has served on Larne council since 2006, said he chose to switch to the party as he believed "politics should be about issues and policy, not tired tribal arguments."
"I believe that Alliance is the party that is leading the way towards a new, shared society," Mr Lynch said.
Local Alliance MLA Sean Neeson welcomed Mr Lynch to the party.
"We will have a very strong team of candidates for the forthcoming elections across East Antrim and the fact that Michael has joined us shows the momentum Alliance has," Mr Neeson said.
"We are attracting new members from all backgrounds because people see that Alliance is leading change in creating a shared future and delivering for everyone."