Arrests after firearm found in van in north Belfast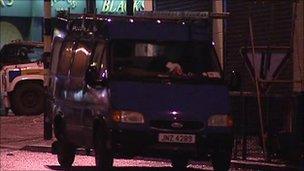 Two men have been arrested after police investigating dissident republican activity stopped a van in north Belfast on Wednesday night.
A gun found in the vehicle has been taken away for examination.
The vehicle was stopped at Clifton Street at around 2000 GMT. The area was cordoned off while Army bomb experts examined the van.
The men arrested are aged 29 and 41. A number of follow up searches were also carried out.