Bank repossesses property developer's helicopter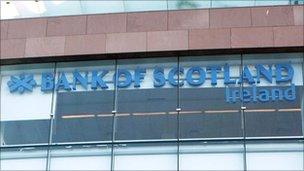 Bank of Scotland Ireland has effectively repossessed a helicopter owned by a County Tyrone property developer.
Jermon Ltd, controlled by Dungannon man Peter Dolan, was placed into administration on 27 January.
The following day Bank of Scotland and other banks appointed receivers to various assets held by the company.
They included an Augusta A109A Mk2 helicopter.
The other assets in receivership are the Springhill Shopping Centre in Bangor, the Clarendon House office block in Belfast, a shop unit at Castle Place in Belfast and two properties in the centre of Dungannon.
Jermon was set up by Mr Dolan, a former pharmacist, in 1997.
The firm's first major project was the development of Northern Ireland's first purpose-built Tesco in Dungannon.
The company expanded throughout the property boom, buying assets in London and Scotland. It also bought properties in central Europe, including an airport in Hungary.
Bank of Scotland Ireland (BoSI) was a major lender to developers during Ireland's property bubble.
It suffered catastrophic losses as a result and has been closed by its parent company, Lloyds.
BoSI's loan book is now being managed by a company called Certus.