Nasa astronaut plans space concert with an Irish air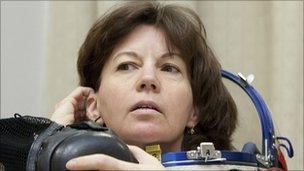 Nasa astronaut Catherine Coleman has plenty of flutes to pick from aboard the International Space Station.
One is her own. Two belong to members of The Chieftains. And one belongs to the flautist with the Jethro Tull band.
Now she is hoping to stage her own live "out of this world" concert with her Chieftain and Tull friends before she returns to Earth in May.
Ms Coleman said she preferred creating music with other people. But she is the only flautist among the six-member space station crew.
So she puts flute music on in the background, and plays along.
She said she enjoyed creating her "own little world" with music.
Fans of traditional Irish music have always maintained it is out of this world, but now a United States astronaut is about to make it a fact.
Ms Coleman blasted off Kazakhstan in December for a six-month period orbiting the earth on the International Space Station.
Along with her regulation space gear, she is took a priceless Irish concert flute, given to her by a man who is considered to be a star himself by traditional music lovers.
Chieftains flute-player Matt Molloy met the NASA astronaut, nick-named Cady, more than 10 years ago after playing at a concert in Houston, Texas.
His pedigree in the traditional music galaxy is stratospheric - he has been a member of the Bothy Band, Planxty and the Chieftains and performed with other artists throughout the world.
After the Houston gig, Matt said, they took part as usual in a session with local musicians, including the astronaut.
"It transpired that Cady played the flute, and we have been friends ever since," he said.
Matt gave her one of his most prized possessions, his E-flat flute for space.
To those who know their traditional music, this is the Ardagh Chalice of Irish concert flutes, as legendary as a Christy Ring caman or a Jimi Hendrix guitar, or a pair of Pele's football boots.
Connoisseurs will know it as the instrument played on his landmark first solo album in 1976.