Belfast rates will rise by 2.95%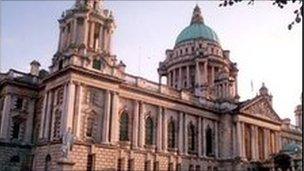 Belfast city councillors agreed to a 2.95% rise in rates at a meeting on Wednesday night.
The council said the average weekly increase would be 14p for a terrace house, 22p for a semi-detached or 39p for a four-bedroom detached house.
The rise is below the rate of inflation, which stands at 3.7%.
"It is a major achievement for the council to come in with a rate just under 1% below inflation," Councillor Ian Crozier said.
The council had been due to strike a rate at its monthly meeting last week but had to postpone the decision following late information received from Land and Property Services.
It told the council the shortfall between the rates it expected to collect and the actual figure was £3.5m.
"Before we received the LPS information, the council had intended to propose a rate of 2.5% which included an additional amount for capital of £20m," Mr Crozier said.
"To have maintained our original plans would have resulted in an increase around 4.5%.
"We have now revised plans and the rate of 2.95% agreed will enable us to invest £15m in capital schemes."
Other councils which agreed rates rises were: Lisburn, 2.97%; Castlereagh, 2.49%; Ards, 0.96% while Limavady dropped its rate by 0.72%