Man rescued from Londonderry fire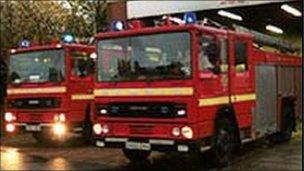 A man has been rescued from a chip pan fire in Londonderry.
The blaze broke out at about 2100 GMT on Wednesday at Chapel Road in the Waterside.
The man, in his mid-40s, was treated for smoke inhalation at Altnagelvin Hospital.
A neighbour raised the alarm and brought the man to safety.
The man then went back into the house and had to be rescued by fire-fighters.
Station Commander Jonathan Tate, from the Fire and Rescue Service, said the man is "lucky to be alive."
"The smoke alarms in the property didn't work," he said.
"If it hadn't been for the neighbour this could have been a fatality."