North west 'loses out' in budget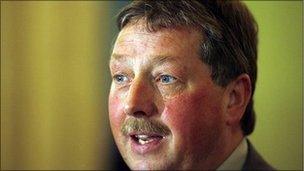 A new report scrutinising how each Stormont department plans to spend public funds over the next four years has claimed the draft budget discriminates against the Northwest.
The report was carried out by the University for Derry lobby group, U4D, and Londonderry Chamber of Commerce.
It found that key projects in the northwest are not being adequately funded.
The finance minister, Sammy Wilson, said he was "surprised" by the report.
The report claimed that high profile projects in Belfast and the East are getting better support than "more significant" projects in the Northwest.
It also said the Department of Culture appears not to have allocated any funds towards Derry's City of Culture year in 2013, but is providing £6million funding for the World Police and Fire Games to be held in Belfast, also in 2013.
The report did acknowledge that the Office of the First and Deputy First Ministers has supplied "a reasonable amount of support" for the Northwest through its funding plans for Ebrington Barracks.
However, it highlighted that the site, which could be a vital location for the City of Culture year, may not be completed until 2015.
The report also asked for a definitive time frame on the completion of both the Derry/Dungiven and Castledawson to Toome sections of the A6.
The finance minister, Sammy Wilson, said he was "confused as to how the north west was being disadvantaged."
"I'm very surprised at the conclusions that have been reached," he said.
"One of the biggest projects in the Department of Regional development's budget is the road linking the north west with the Republic.
"There is also money for the city of culture, the development of the site at Ebrington and ongoing investment in Ilex.
The minister added that he would consider all of the comments made during the consultation of the draft budget.
"People tell me what I should be spending money on," he said.
"But they don't, on the whole, suggest where I should get this money from."
Sinn Fein Assembly Member Martina Anderson said none of the Stormont departments have received a business case from groups seeking funding for Derry's year as UK City of Culture.
SDLP Foyle MP Mark Durkan said the report "reinforced the urgency of a robust response from government to help tackle the effects of the recession in the North West."
The Department of Culture Arts and Leisure confirmed that it has not ring-fenced any money for 2013.
The consultation period on the draft budget ends this month.