Arts protest held in Londonderry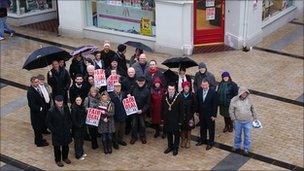 A protest has been held in Londonderry against proposals to cut the Arts Council's budget by almost a quarter.
Campaigners demonstrated outside the City of Culture offices on Wednesday.
The Department of Culture, Arts and Leisure is planning cuts to arts funding by £4.2m over a four-year period.
Noelle McAlinden, of the City of Culture Team, said the protest had provided "an opportunity for those opposed to the cuts to be heard."
"This is a crucial time for all artists, arts and cultural organisations and the creative industries in a city that has been designated City of Culture 2013," she said.
"This a sector that already faces severe cutbacks and works in a climate of extreme funding constraints."
Campaigners are due to present a petition signed by those against the proposed cuts at the budget consultation office in Belfast later this month.