President's relative among six killed in Cork crash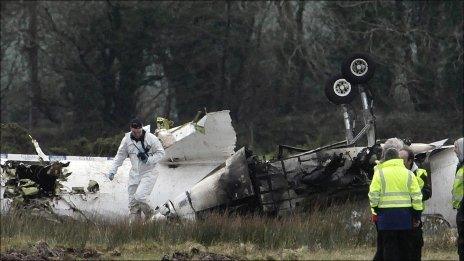 Six people, including a relative of the Irish president, have been killed and six others injured after a plane from Belfast crashed in fog at Cork Airport.
The Manx2 commuter flight with 10 passengers and two crew on board crashed on the runway on its third attempt to land just before 1000 GMT.
Brendan McAleese, a cousin of Mary McAleese's husband, was killed.
The other victims were said to be two Northern Ireland businessmen, a Briton, a Spanish pilot and British co-pilot.
Mr McAleese owned the Central Laundries business in Cookstown, County Tyrone, and was married with a young family.
Another of those killed was Pat Cullinan, originally from Omagh, County Tyrone, and a partner in accountancy firm KPMG in Belfast.
A third victim was named as Captain Michael Evans, deputy harbour commissioner in Belfast.
Irish, British and Spanish passport-holders were on board the aircraft which was flying between the two cities as part of a scheduled daily service. All their families have been informed.
The six injured are being treated at Cork University Hospital.
Dr Gerry McCarthy, head of emergency medicine at Cork University Hospital, said two people are in intensive care with chest, abdominal and spinal injuries.
Two people remain in a serious condition, while the other two are described as doing "well".
Flight NM7100, a scheduled daily flight from Belfast to Cork, left George Best Belfast City Airport at 0750 GMT.
Jurgen Whyte, senior inspector with Ireland's Air Accident Investigation Unit (AAIU), said the aircraft had crashed, inverted and caught fire about 1,000ft down the runway.
"We have to review the air traffic control tapes. We have to review the radar pictures and we have to spend a period of time analysing the information to determine what was actually happening," he said.
"Of particular interest to us is recovery of the flight data recorder and the cockpit voice recorder and hopefully when we recover that information and analyse it, it will give us some indication of what was going on in the final moments."
The Barcelona-based operator Flightline BCN confirmed that the Fairchild Metroliner was one of its aircraft.
In a statement, Manx2 said: "The aircraft left Belfast City Airport at 0750 GMT this morning and was due to land in Cork at 0900.
"Due to weather conditions at Cork Airport, the aircraft tried to land twice, and the incident took place on its third approach.
"We are working with all relevant authorities to establish what happened.
"We would like to express our sincere sympathies to the families of those who lost their lives in this tragic accident."
A family and friends reception centre has been established at Belfast City Airport. It is being run by the police and Belfast Trust Emergency Response team. A casualty information bureau has also been set up at Cork airport.
An emergency help line has been set up on 00353 214 328820.
President Mary McAleese expressed her deep shock and sadness at news of the crash.
A spokeswoman said: "The president said her thoughts and prayers, and those of all the people of Ireland, are with the families of the deceased and the survivors at this very difficult time."
Northern Ireland First Minister Peter Robinson also said he was shocked to hear of the crash.
"This is a terrible tragedy and my thoughts are with the families of the bereaved. My thoughts are also with the injured and I hope that they will make a full and speedy recovery," he said.
Deputy First Minister Martin McGuinness said: "Our hearts are broken for those people who have lost loved ones in this incident and we want to send our condolences and very deep sympathy on what is a very tragic and traumatic time for themselves."
Irish Prime Minister Brian Cowen said: "My thoughts are with all of those affected by this morning' s crash, including the families and friends of those who have died.
"I also want to send my best wishes and those of the government, to all of those who survived the crash and are being treated in hospital at present."