Colin Howell 'driving force' in affair, court told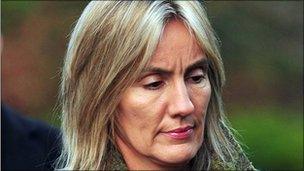 The double murder trial of Coleraine woman Hazel Stewart has heard Colin Howell described as the "driving force" behind their relationship.
Mrs Stewart, 47, denies murdering her former husband Trevor Buchanan, 32 and Howell's 31-year-old wife Lesley.
Former dentist Colin Howell has already pleaded guilty to the charges and was jailed for 21 years.
On Thursday, Pastor John Hansford said he counselled the Buchanans and Howells after finding out about the affair.
The bodies of Mr Buchanan and Mrs Howell were found in a fume-filled car in Castlerock, County Londonderry, in May 1991.
Pastor Hansford told Coleraine Crown Court he had become aware that two of his church members had entered into an adulterous relationship in the late summer of 1990.
At the time Hazel Stewart was married to Trevor Buchanan, but was having an affair with Howell.
Both the Buchanans and the Howells asked for the matter to be kept private.
After informing church elders Pastor Hansford agreed to counsel both couples
He told the court Hazel Stewart found it difficult to accept her personal responsibility for the affair, but also confirmed to the court that in 1991 he told the police that the accused was "out of her depth with Colin" and that Howell was the driving force behind the relationship.
He said Hazel "wasn't streetwise and didn't have the necessary guile" to carry on an affair.
The pastor also revealed that a matter of weeks before Howell murdered his wife and former lover's husband he had embraced Trevor Buchanan and asked for forgiveness for the affair.