Nominations close and race for Ireland's 31st parliament begins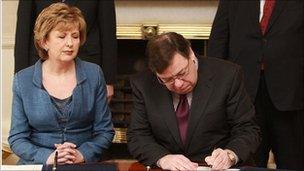 Nominations have closed for the Republic's general election on Friday, 25 February.
A total of 564 candidates will be contesting the general election, nearly a hundred more than in the last similar poll in 2007.
The number of independents has more than doubled from 108 four years ago to 233 this time around.
Many of the independents are running on platforms to save their local hospitals, while others are from small left-wing parties and are opposed to the European and IMF 85bn euro bailout loan and some are from what wags have described as the 'Sommerville and Ross party'.
And no, they have nothing to do with the authors of the Irish RM and the creators of the Flurry Knox character, but refer to the outgoing Senator Shane Ross, the author of the book, The Bankers, and business editor of the Sunday Independent newspaper and to Paul Somerville, who has expertise in economics and finance.
One of the grandsons of Fianna Fail founder Eamon de Valera is also standing as an independent. Ruairi de Valera is contesting the Wexford constituency, but admits he doesn't stand a chance of getting elected.
Fianna Fail has 75 candidates, down from a total of 106 in 2007. Micheal Martin's party has never fielded fewer candidates; it's an historic low.
The reduction reflects the reality that the party expects a trouncing and is involved in damage limitation.
Meanwhile, Fine Gael has put forward 104 candidates, up from the 91 standing in 2007. Enda Kenny's party is hoping to maximise its number of seats at a time when polls show he will almost certainly be the taoiseach in a Fine Gael-led government.
And the Labour party is also hoping to capitalise on its good poll ratings and increase its number of seats by fielding 68 candidates, 18 more than it did in 2007.
The Green Party is running 43 candidates, one in each constituency, while Sinn Fein has 41, the same number as in 2007.
Over three million people are entitled to vote.
Polls, to date, suggest independents will do well again in this year's election.
But with Fine Gael and Labour apparently on course to form the next coalition with a huge majority, it is unlikely that independents will have the same influence in the next Dail as they had in the 30th.
The Fianna Fail-Green coalition needed the support of the likes of Kerry South's Jackie Healy-Rae and Tipperary North's Michael Lowry.
It will probably be a very different political landscape after 25 February.