Tragic aircraft 'made three approaches'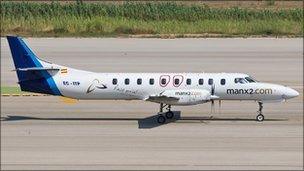 The aircraft was on its third attempt to land when the accident happened, the airline Manx2 said.
"The aircraft was carrying ten passengers and two crew members - a captain and a co-pilot. The aircraft involved was a Metro Liner leased from Flightline BCN in Spain," an Manx2 spokesperson said.
"The aircraft left Belfast City Airport at 0750 GMT this morning and was due to land in Cork at 0900 GMT.
"Due to weather conditions at Cork Airport the aircraft tried to land twice."
"The incident took place on its third approach. We are working with all relevant authorities to establish what happened.
"We would like to express our sincere sympathies to the families of those who lost their lives in this tragic accident."
Manx2.com has been operating for the past five years, with its headquarters in Douglas in the Isle of Man.
It currently leases eight aircraft for scheduled flights in the UK and the Republic of Ireland, and carries in excess of 100,000 passengers per year.