Four more Northern Ireland deaths due to swine flu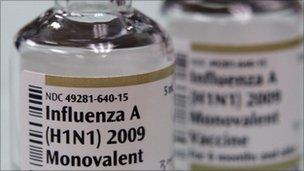 Four more people with swine flu have died in Northern Ireland according to the latest Public Health Agency figures.
The PHA said all those who had died had underlying health problems.
The figures - for the week 29 January to 4 February - show there were 11 new confirmed cases of the virus.
Dr Maureen McCartney of the PHA said the figures indicate "we are likely to have passed the peak of this winter's flu season".
"The low levels of swine flu circulating in Northern Ireland are very much in keeping with the picture across the rest of the UK," she said.
"However, it is still important that the public maintain high standards of respiratory and hand hygiene."
Related Internet Links
The BBC is not responsible for the content of external sites.