Six crash victims' names are released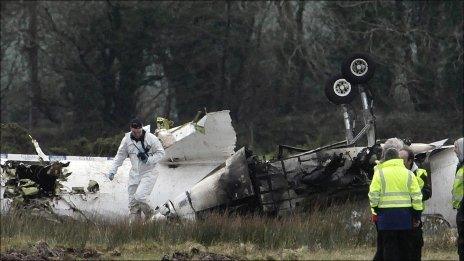 The names of the six people killed in the plane crash at Cork Airport have been released.
The Manx2 commuter flight with 10 passengers and two crew on board crashed on the runway on its third attempt to land just before 1000 GMT on Thursday.
Irish, British and Spanish passport-holders were on board the aircraft which was flying between Belfast and Cork as part of a scheduled daily service. All their families have been informed.
Brendan McAleese, who was originally from Tannaghmore, County Antrim, owned the Central Laundries business in Cookstown, County Tyrone, and was married with a young family.
The 39-year-old was a cousin of the Irish President Mary McAleese's husband Martin.
Mrs McAleese paid tribute to him, saying he was a fine and loving husband, father, son and brother.
"No words can ease their pain but I hope they draw some small comfort from knowing that our thoughts and prayers, both here and in homes throughout the country, are with them at this darkest hour," she said.
Pat Cullinan, 45, originally from Omagh, County Tyrone, was a partner in accountancy firm KPMG in Belfast.
His colleague, Jon D'Arcy, Chairman of KPMG in Belfast said: "Our thoughts and prayers are with Pat's family and friends at this terribly sad time.
"He was highly regarded by all of his colleagues and clients and his tragic and untimely death has come as a shock to everyone in the firm, especially to those in our Belfast office and to all who knew Pat as an exceptional friend and colleague."
Tom McBride is a cousin of Mr Cullinan's and said he was "first and foremost, a very dedicated, loving family person".
"He was one of a family of five and never forgot his roots.
"He was always a quiet but very well-focused individual, who clearly had objectives and goals in sight, and went after them in a very quiet and dignified way. I don't think anybody is surprised by how well he did in his professional career."
Captain Michael Evans, 51, was the deputy harbour master at Belfast Harbour.
Harbour Master, Kevin Allen, said: "We're all devastated by the news of Michael's death. He was phenomenally committed to his job and to his colleagues, helping ensure that the harbour stayed open to shipping every hour of every day.
"Michael was tremendous fun and unique to work with, and was well known and respected throughout the shipping industry.
"Our thoughts and prayers are with his wife, Andrea, and family."
Richard Noble was managing director of the Irish division of printing business, the Danwood Group.
Married with one daughter, the 48-year-old had been based in Ireland for several years and was living in Belfast.
He was on his way to a business meeting in Cork when the crash happened.
Managing Director of the group, Colin Daniels, said: "We are shocked and deeply saddened by the news that our colleague and friend Richard Noble has died in this terrible accident at Cork Airport.
"Our thoughts and prayers are with Richard's wife, daughter, family, friends and all of his colleagues within Danwood. We feel privileged to have worked with and known Richard.
"He will be sadly missed and fondly remembered."
British co-pilot of the Manx2 flight. He was from the north east of England.
The 27-year-old was previously a lifeboat volunteer in Sunderland.
Mr Cantle joined Sunderland RNLI in 2000 and spent eight years at the station before moving to York. While there, he started his career as an airline pilot.
Paul Nicholson, senior helmsman at Sunderland RNLI, said: "Everyone involved with the lifeboat station is in total shock about the tragic loss of a very close and dear friend."
"While serving as a volunteer, Andy was always keen to learn new skills and always did everything to a very high standard, whether that was taking part in a rescue mission or helping promote the RNLI at a fundraising or promotional event."
31-year-old Jordi Sola Lopez, was from Manresa, Barcelona.
The Spanish pilot of the Manx2 flight had been working with the airline for less than a year.
Manx2 Chairman Noel Hayes, said both Mr Lopez and Mr Cantle were "great lads".
He added: "They were well liked by the whole team. Our hearts go out to them and our sincere condolences to their families.
"They were well known to the company and well known to us."