Northern Bank warns it will pursue debtors
By Kevin Magee
BBC News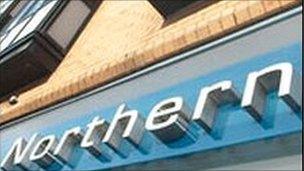 The Northern Bank has warned that it will pursue any debtors who gave personal guarantees as collateral to acquire loans.
The bank made a pre-tax loss of £95m last year which includes a provision of almost £143m of bad debts.
Northern bank chief executive Gerry Mallon said: "We look at all forms of collateral which a customer has provided , and if an element of that is a personal guarantee, as our shareholders would expect, we pursue that personal guarantee."
"It is part of the collateral which is given to us as one of the terms of lending and there is no reason why we should not pursue that.
He added: "We have a huge range of customers and we have a huge range of collateral, and across that huge range we are taking different actions.
"We are keen to work with customers to do whatever it is we can. We are not in the businesses of turning people onto the street."
If loan impairments for bad debt are set aside, the Northern Bank made an operating profit of £47.7m compared to £68.6m last year.
The bank said the economic conditions remain challenging and the impairment charges reflect the continued fragile market conditions primarily linked to the property market.
Mr Mallon added: "I'm very pleased with the core performance of our business in a year in which economic and market conditions remained very tough. Despite the headline figures, we are making good progress on those aspects of performance which are within our control."