PPS21 causing 'bungalow blight' says Brian Wilson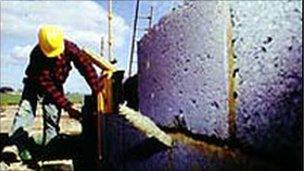 The Green Party has claimed the introduction of a new rural planning policy is threatening to destroy the look of the countryside.
PPS 21 was introduced in draft form in 2008 and approved by the Executive two years later.
It replaced PPS 14 which severely restricted rural housing.
Green MLA Brian Wilson claimed it had opened the floodgates to bungalow blight by allowing 10,000 new single dwellings to be approved since 2009.
This represented a 97% success rate for applicants.
"We've gone back to just exactly what it was - people are getting planning permission to just build anywhere.
"We've got a hacienda on every hillside as far as I can see," he said.
The Department of the Environment defended the PPS 21 planning policy saying it strikes a balance between the need to protect the countryside from inappropriate development, while supporting rural communities.
All planning applications, it said, are assessed using strict planning guidelines.