Rapist could 'go back to prison' for breaking parole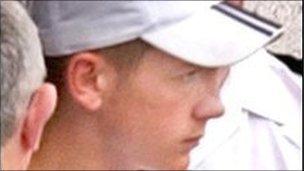 A man convicted of raping a schoolgirl could return to jail if he breaches his parole licence again, a court heard on Friday.
Mr Justice Hart told Michael Quinn he faced the "very real likelihood of going back to prison" if he breached parole for a third time.
Belfast Crown Court heard that Quinn started drinking after he was attacked at a Tesco supermarket last month.
His defence lawyer said what the 22-year-old did was "not excusable".
However, Barry Gibson said it was "understandable" given the circumstances of the attack for which "a number of young men have been made amenable".
The lawyer added that it was not until the following morning that staff, at the bail hostel where he was staying, suspected that a "red-eyed Quinn" had been drinking, which proved correct once he was breathalised.
Mr Justice Hart said the fact that this was a second breach was a significant matter and an aggravating factor and that it would be open to the court to revoke his licence altogether.
However, he instead opted to suspend the his parole licence for six months.
Quinn, formerly from Glasvey Drive in west Belfast, was originally jailed for eight years in 2007 for raping a 15-year-old English schoolgirl twice in 2005.
He was freed on parole in August 2009.
However, within six weeks, Quinn absconded and was later arrested for attempting to break into a house in Marlborough Park Central in south Belfast.
Belfast Recorder Judge Tom Burgess eventually gave Quinn a concurrent two-year jail term last September, a year of which was to be served on licence, but which has already been revoked by the parole commissioners.