Court told of shoplifter 'fear'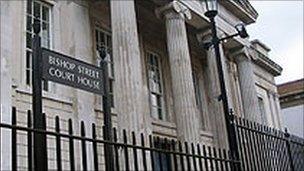 Londonderry Magistrates Court has been told that a Derry man was such a prolific shoplifter that many retailers in the city knew him by his first name.
Twenty-one-year old Thomas Stokes, of The Old Fort in Strathfoyle, was charged with stealing a wireless reversal kit valued at £130, shaving cream and razors from local chemists last November.
A police officer told the court that many retailers were "fearful" of Mr Stokes as he could "become aggressive if approached."
The defendant was released on bail and is due to appear in court again next month.