Punishment victim wins compensation challenge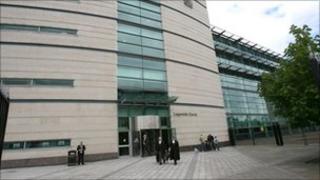 A punishment shooting victim has won a legal challenge against having his compensation cut for not identifying his attacker.
Belfast man Gerard Maguire received an award of nearly £8,000 after he was shot in both legs.
He asked for a judicial review after a compensation appeals panel cut his award to £3,190.
A High Court judge quashed the decision because Mr Maguire had been penalised twice for the same alleged behaviour.
His case will now be reconsidered by a separately constituted board.
Mr Maguire was attacked at a house in the Jamaica Court area of Belfast in July 2008.
Although he was awarded £7,850 in compensation, this was cut to £3,140.
The reductions included 25% for failing to report all circumstances of the shooting promptly to police and another 25% for not co-operating with police.
Another 10% was taken off the total for character and way of life.
'Poor historian'
The panel assessing his case had concluded he was not a credible witness and was "a poor historian".
Two months after the attack he told a fracture clinic doctor that the person who inflicted his assault injuries on that occasion was the same person who had shot him, the court heard.
This information was not shared with police.
Mr Maguire also admitted that his wife mentioned the names of up to 20 different suspects in hospital, the panel pointed out.
But his lawyers argued that the second 25% reduction amounted to unlawful duplication under the Northern Ireland Criminal Injuries Compensation Scheme 2002.
Ruling on the shooting victim's application for judicial review, Mr Justice McCloskey held that the relevant section of the legislation "permits one reduction only for a single default, or misdemeanour".
The judge said he could not find anything in the legislation which justified a victim being penalised twice.