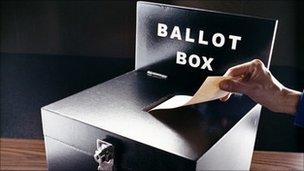 With two weeks to go to the Irish General Election, would-be voters are carefully weighing-up what is on offer from the main political parties. BBC NI's Dublin correspondent, Ken Murray, has been looking at what issues are on the table.
When former US President Bill Clinton was once asked how he accounted for his popularity, he said: "It's the economy, stupid."
Politicians are well aware that no matter how many roads you build, schools you open, hospitals you develop or green trees you plant, they all account for little unless your economy is in good shape.
It is all about jobs and above all else prosperity.
Not surprisingly the parties in the Irish Republic are bombarding voters with their plans to get the Irish economy back on track.
The ruling Fianna Fáil party which has been in power for 22 of the last 24 years, has told the electorate that if it is returned to power it will deliver 100,000 training and employment places in 2011 and will invest 7m euros (£6.2m) this year for the provision of on-the-job training for up to 1,000 redundant workers.
It also plans to build the controversial Metro North light rail system, which will link Dublin City with its airport, creating 37,000 jobs in the process.
It will overhaul the outdated bankruptcy laws to assist businesses in trouble and will aim to make the Republic an international global innovation hub to attract investors into the so-called smart economy.
The main opposition party Fine Gael, which has yet to publish its manifesto, has said that it will review the constitutionality of contract law where upward-only rent reviews are closing down small businesses.
It promises to halve the social insurance contribution (PRSI) for low paid jobs over the next three years and will freeze local commercial rates.
The party said it will set up a micro-finance fund of 100m euros (£87m) for new start-up companies and will cut the lower rate of VAT from 13.5% to 12%.
The Labour Party has indicated it will go after those who can afford to pay, while imposing no further pain on the less well off in Irish society.
It proposes a minimum tax rate of 30% on those earning over €250,000 and will phase out the amount of interest that can be offset against rental income tax to 25%.
It says it will restore the minimum wage from €7.65 back up to €8.65 per hour and it will provide 500m euros (£435m) in a jobs fund.
Sinn Fein meanwhile has taken a leaf from the life of famous 1961 Pools winner Viv Nicholson and is planning to spend, spend, spend.
It proposes to raid the National Pension Reserve Fund which holds 30bn euros (£25bn) and spend sums of 7bn euros (£6.2bn) on job creation with the aim of creating 160,000 work places.
It also claims it will increase the minimum wage to €8.65, while at the same time insisting that the various finance houses that gave money to Irish banks do not get their money back.
Last but not least Sinn Fein will introduce a 1% wealth tax on assets over 1m euros (£860,000) and establish a third tax rate of 48% on income over €100,000.
Whether a weary Irish electorate is persuaded by the proposals on 25 February remains to be seen.
In the meantime, the battle for hearts, minds and votes in the most eagerly awaited election in decades, continues apace.