Does Enda Kenny have what it takes to lead Ireland?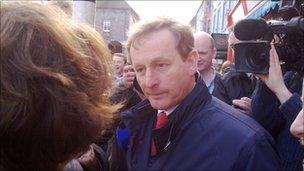 Fine Gael leader Enda Kenny is the favourite to become Ireland's next prime minister, following the 25 February election. BBC Ireland correspondent Mark Simpson profiles the primary school teacher turned politician.
Behind the mild-mannered, softly-spoken exterior of Enda Kenny is a proud politician from the west of Ireland who likes nothing better than a fight.
One of his heroes is the boxing legend Muhammad Ali, and in his County Mayo home he has a signed picture of Ali in action, delivering a knock-out punch.
Ali's fighting style was to "float like a butterfly and sting like a bee".
Critics of Enda Kenny say he floats like a butterfly - and stings like one too.
They say he lacks political bite, he performs poorly in front of TV cameras and is not even the best leader in his own party, never mind the best leader in the country.
Kenny, 59, faced an internal push within the Fine Gael party last year.
Rather than throw in the towel, Kenny fought back and survived. Although it was personally embarrassing for him, the skirmish may have done him good.
If Kenny's Fine Gael party wins this month's election, he will soon be prime minister, or Taoiseach as it called in Ireland.
According to the opinion polls, the Irish public are not convinced he is up to the job. He does not rate as highly as the leaders of some of the other parties.
However, following Kenny on the campaign trail, it is clear that he engages well with people.
Late one night in an hotel, I witnessed him being confronted by a young man who was desperate to know what Fine Gael was going to do about Ireland's spiralling emigration. It is estimated that 50,000 people will leave in the next year.
The young man looked agitated, bordering on the aggressive, and stood very close to Kenny. Rather than back away, or call for help from his aides, he calmed him down and listened to his concerns. They spoke for almost 20 minutes.
In 1975, shortly after his father died of cancer, Kenny became the youngest member of the Irish parliament. He was 24.
Almost four decades later, he is now one of the oldest.
He became leader of Fine Gael in June 2002, taking over from Michael Noonan, after a disastrous general election result.
The party is now on the brink of government for the first time in more than 13 years. It will probably be as the senior partner in a coalition but it will still be a position of power.
During his long career, Kenny has built up good political contacts in Europe, which will come in handy if he soon assumes control of Ireland's beleaguered economy.
One of his first high-profile events as Taoiseach could be to welcome the Queen to Ireland in May. That would be seen by many people as the defining moment of the peace process. No serving British monarch has been to Dublin since Ireland gained independence.
First he needs to win the election. Then he needs to rescue the country's finances, and restore Ireland's battered economic reputation abroad.
If he is lacking confidence in his own ability, he need look no further than his hero Muhammad Ali.
The boxer once said: "I'm so fast that last night I turned off the light switch in my hotel room and was in bed before the room was dark."
It is hard to imagine Kenny coming up with a line like that, but in the coming weeks he needs to prove that he is a political heavyweight.