Justice Minister seeks to extend solicitors remit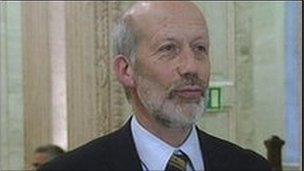 Justice Minister David Ford has announced plans to allow solicitors to represent clients in higher courts.
In a speech to Omagh and District Solicitors Association Mr Ford outlined plans for an amendment to the Justice Bill, which is before the Assembly.
It would mean solicitors' rights to represent clients in all types of proceedings at the higher courts in Northern Ireland.
Mr Ford said the move takes forward a proposal from the 2006 Bain report.
The amendment would grant solicitors rights of audience in all types of proceedings in the High Court and the Court of Appeal, creating greater choice for those wishing to be represented.
Mr Ford said solicitors in Northern Ireland currently enjoy unlimited rights of audience in the Crown Court, County Courts, Magistrates' Courts and tribunals.
"However, solicitors appearing in the High Court or Court of Appeal can only do so where the matter relates to insolvency, or where the issue is heard in chambers, or where counsel is unavailable.
"The Amendment I am proposing takes forward one of the key proposals of the 2006 Bain Report on the Regulation of Legal Services in Northern Ireland.
"Sir George Bain recommended back then that suitably qualified solicitors, who have undertaken the necessary advocacy course, should not be constrained from representing clients in the higher courts.
"I believe that the removal of the current restrictions will offer a wider choice of legal representation to the public and will enhance the provision of legal services here."
The proposed Amendment to the Justice Bill would place responsibility for the authorisation of solicitors to exercise rights of audience in the higher courts with the Law Society.
The Society would also be responsible for regulations governing the operation of the scheme to include the setting of training and experience requirements for authorisation.
The amendment will also contain provision to ensure that both the standards of advocacy, and competition for advocacy services, in the higher courts are maintained.