Teenager jailed for 7 years in connection with police officer's death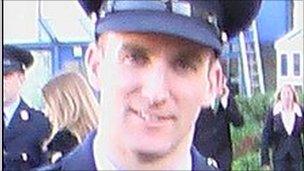 A Donegal teenager has been sentenced to seven years in jail for dangerous driving causing death of an Irish police officer.
Garda Robbie McCallion from Swinford, County Mayo, was struck by a car driven by 19-year-old Jamie McGrenaghan at Tara Court in Letterkenny in March 2009. He died two weeks later in hospital.
Jamie McGrenaghan from Kerrykeel, County Donegal, had pleaded guilty to the charge and Judge John O'Hagan sentenced him to seven years with the final year suspended.
The Judge also sentenced him to five years for recklessly endangering the lives of two other garda officers who were also present at Tara Court.
A further three-year sentence was imposed for stealing a car on the same night along with three years for each of eight burglary and criminal damage charges.
The sentences are to run concurrently.
The judge also disqualified McGrenaghan from driving for life.
Last week, Mr McGrenaghan was found not guilty of the manslaughter of Garda McCallion.