'As Others See Us'
By Tony Curry
Producer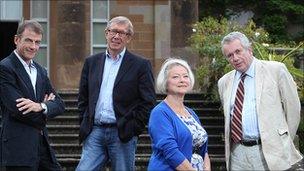 They brought many of Northern Ireland's stories to the world during the deadliest days of the Troubles, now they've come back to see how some of those stories ended.
Reporters Martin Bell, Peter Taylor, Kate Adie and Bill Neely returned for a BBC NI documentary "As Others See Us".
A familiar figure in his trademark white linen suit strolls up Belfast's Shankill Road attracting the attention of curious shoppers.
He's greeted warmly by complete strangers keen to shake his hand and welcome him to their district.
Times have changed since Martin Bell, veteran war reporter and more recently an independent Member of Parliament, crouched in the side streets in the thick of heavy gunfire more than four decades ago.
Back then he was reporting the early days of the Troubles to a network audience who were becoming more and more familiar with scenes of death and destruction from Belfast on their television screens.
Today, Martin Bell is retracing his steps for a BBC NI documentary As Others See Us and reflecting on the role of journalists.
He still has vivid memories of a gun battle on the Shankill when loyalists opened fire on the police and Army on 11 October, 1969.
The first policeman to be killed in the Troubles, Constable Victor Arbuckle, was shot dead by the UVF that night. Two Protestant men were killed by the Army.
"It was the middle of the night and I felt I was in the middle of World War Three because the Protestants were well armed. And I thought, you know, what's going on in my country?" he told me.
"I'd been a soldier once so I knew a little bit about field craft, so I would hide here and I'd hide there, but the risks we ran were actually considerably greater than we realised at the time."
What viewers watching those fuzzy images of a fierce gun battle on their black and white sets didn't know was that Martin Bell shot the pictures himself.
"It makes me seem a terrible blackleg and strike-breaker, but it just so happened that the cameraman's union had called a strike for the 11th of October.
"And the cameraman I was with didn't agree with it and he said here's the camera and here's how it works.
"So some of those really dodgy pictures were shot by me in my one and only attempt ever to be a cameraman," he said.
Kate Adie, a former BBC Chief Correspondent, who reported often from Northern Ireland, also agreed to make the journey back to her professional past.
She would become one of the best known faces on television, covering conflicts across the world, but getting to grips with the story when she first arrived was a challenge.
"It was a huge learning curve. You came into the Belfast newsroom, which along with all the other reporters here in Northern Ireland, knew all the ins and outs.
"There was a vocabulary to be learned," she explained.
As we drive towards Drumcree Church on a still, sunny afternoon, she recalls the difficulties of reporting the angry clashes during the stand-off in the mid 90s.
"This was hard to explain. What were you commemorating? I mean, where were you going? Where was this parade to or for?
"And it involved the Orange Order, which I have to say is one of those enormous mysteries to large numbers of people who are not in Northern Ireland," she said.
Investigative reporter Peter Taylor has been making programmes about the situation here for ITV and BBC since the early 70s.
He's built up a huge network of contacts over four decades and returning to film for the documentary brings back memories of his first visit.
"My introduction to Northern Ireland and the conflict was Bloody Sunday in January 1972. I'd never been to Ireland before, didn't know where Derry/Londonderry was, knew not a lot about the Troubles, and I was you know, a green young journalist and was sent over actually on Bloody Sunday, although we arrived after the shootings were over. It was one of those experiences I will never forget," he said.
He admits that he felt guilt about the actions of the soldiers and his own ignorance.
"I decided it was time to find out what it was all about, how a situation like this had arisen in part of the UK. And that was the beginning of my journey and the journey continues," he said.
Bill Neely, now ITV News' International Editor, began his career as a reporter with BBC Radio Ulster.
He was on the evening shift when news came through of the Droppin' Well bombing in Ballykelly in which six civilians and 11 soldiers were killed in December 1982.
A return visit to the scene brings back painful memories of that winter night.
"It was pretty obvious right from the minute you saw the Droppin' Well that this was a place of terrible death, terrible carnage - and that is what it proved to be," he said.
Bill was just 23 at the time and it was only after several days of filing reports that the full impact hit him.
"When I got back to the hotel after the first day of the funerals, I burst out crying. I just put my stuff on the bed and I suddenly found myself sobbing like a baby."
Almost 30 years on, he is hopeful for the future: "I think it's a lasting peace, there is certainly an absence of violence, whether you call it peace or not I don't know, but it is a far, far better place than the place we used to be in when I grew up."
You can watch the programme again via the BBC iPlayer by clicking here.
There is also an exclusive web discussion available to view here.