Belfast's 'tallest building' site in receivership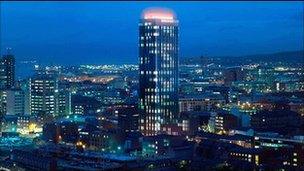 A site in Belfast which was once earmarked for the city's tallest building has been placed into receivership by Anglo Irish Bank.
Developer Mervyn McAlister hoped to build a 37-storey skyscraper called the Aurora on Great Victoria Street.
The Planning Service blocked that plan, a decision Mr McAlister was appealing.
Last week the bank appointed a receiver to two other sites owned by Mr McAlister in Coleraine and Dundonald.
The failed Anglo Irish Bank lent hundreds of millions of pounds to NI developers. Many of them are now unable to repay their loans.
Anglo appointed a receiver to the Aurora site on 27 January, the same day as it placed two other McAlister sites into receivership.
Those two sites at at Greenhall Highway in Coleraine and Dunlady Road in Dundonald were the property of McAlister Construction Ltd.
However, the Aurora site, which is currently a car park, was held by a dedicated company, Sarcon (no.319) Ltd, which was incorporated in 2009.
Mr McAlister, a house builder and hotel owner from Ballycastle, came to prominence in 2007 when he announced the plans for the Aurora at the peak of Northern Ireland's property boom.
In December he announced he was temporarily closing his Ballycastle hotel, the Marine.
All of Mr McAlister's companies are continuing to trade.
A bank appoints a receiver when it doubts a company's ability to repay all of its debts and wants assets sold so that it can get its money back.
The receiver also takes control of any rental income the properties are earning.
Last year another major development site on Great Victoria Street was also placed into receivership by Anglo.
Dungannon developer Peter Dolan had planned to build a landmark 11-storey tower and plaza called South Bank Square on the site currently occupied by Fanum House.