Funerals of two Cork plane crash victims later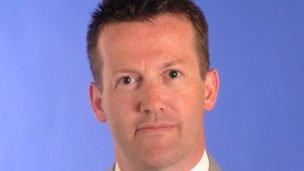 The funerals of Brendan McAleese and Pat Cullinan will take place in counties Antrim and Tyrone later.
Meanwhile the wreckage of the Manx2 aircraft has been moved from the runway to the Irish Department of Transport's Air Accident Investigation Centre at Gormanston in County Meath.
The plane was travelling from the City Airport in Belfast when the tragedy happened on Thursday morning.
Three people from Northern Ireland were among those who died.
Pat Cullinan, 45, originally from Omagh, County Tyrone, was a partner in accountancy firm KPMG in Belfast.
Requiem mass for Mr Cullinan will be held at St Patrick's Church in Cranagh, outside Plumbridge.
Local parish priest, Joseph O'Connor, said Mr Cullinan's family were "shattered" following his death.
"He might have changed his life, he may have done many things, but it wasn't to be," he said.
Mr Cullinan's colleague, Jon D'Arcy, Chairman of KPMG in Belfast said: "Our thoughts and prayers are with Pat's family and friends at this terribly sad time.
Pat Cullinan was described as a 'loving family man' "He was highly regarded by all of his colleagues and clients and his tragic and untimely death has come as a shock to everyone in the firm, especially to those in our Belfast office and to all who knew Pat as an exceptional friend and colleague."
Tom McBride is a cousin of Mr Cullinan's and said he was "first and foremost, a very dedicated, loving family person".
"He was one of a family of five and never forgot his roots.
"He was always a quiet but very well-focused individual, who clearly had objectives and goals in sight, and went after them in a very quiet and dignified way. I don't think anybody is surprised by how well he did in his professional career."
Brendan McAleese, 39, who was originally from Tannaghmore, County Antrim, owned the Central Laundries business in Cookstown, County Tyrone, and was married with a young family.
A funeral service for Mr McAleese will be held at St MacNissius Church in Tannaghmore.
He was a cousin of the Irish President Mary McAleese's husband Martin.
Mrs McAleese, who will be at the funeral, paid tribute to him, saying he was a fine and loving husband, father, son and brother.
"No words can ease their pain but I hope they draw some small comfort from knowing that our thoughts and prayers, both here and in homes throughout the country, are with them at this darkest hour," she said.
South Antrim assembly member, Thomas Burns, attended the McAleese family home on Sunday and will also be at the funeral service.
He said the family were in "great distress", but "were holding up well".
"Brendan McAleese was a very successful business person, but he was also a tremendous family person," he added.
"It is a very close and tight community in Tannaghmore and they all feel very much for the McAleese family.
"Everyone has only the highest praise for Brendan, he was a loveable character."