£20K for Ulster Scots dictionary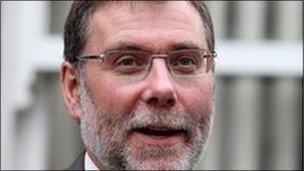 More than £20,000 has been spent on the development of an Ulster Scots dictionary, it has emerged.
The figure was revealed in answer to an Assembly question from SDLP MLA Dolores Kelly to Culture Minister Nelson McCausland.
The minister confirmed that a "word glossary" and a "spelling and pronunciation guide" were prepared by the Ulster-Scots Academy Implementation Group (USAIG).
The project has so far cost £20,673.
The Minister said that £13,523 was funded by the USAIG while the Ulster Scots Agency contributed £7,150.
He added that discussions were continuing with the Ulster Scots community with a view to publishing the dictionary "as soon as possible".
Meanwhile the Ulster Scots Agency has advertised for a new chief executive at a salary of up to £50,796.
The organisation is currently headed by interim chief executive Hazel Campbell who was appointed after George Patton resigned last year.
The agency is jointly funded by the Department of Culture Arts and Leisure in NI and the Department of Community, Equality and Gaeltacht Affairs in the Republic of Ireland.