Forever Fianna Fail?
By Martina Purdy
BBC NI Political Correspondent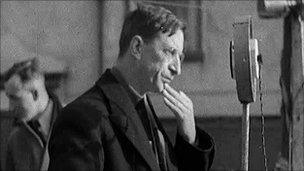 The Irish economy has well and truly crashed, but what about Fianna Fail, the party that has been in power since 1997, through the rise and fall of the Celtic Tiger.
With a new leader, Michael Martin, just how will the soldiers of destiny do in the battle for votes this time?
At the Hillery family pub in Miltown Malbay, County Clare, the customers, like in most pubs, are in the mood for a party.
As for the owners, the party is always Fianna Fail.
For their own relation was Patrick Hillery, the sixth Irish president. And now his son is aiming to secure the Dail seat for County Clare.
But why is Dr John Hillery giving up medicine for politics when Fianna Fail is expected to suffer its worst ever election?
"People in general, including myself, are getting discouraged about what's been happening nationally and we've all been getting discouraged about how that's been dealt with," he said.
"So we need to re-engage with the democratic process, the alternatives that we see elsewhere aren't very good. So, for me, the way to do this is to step forward as a candidate. I don't see the Fianna Fail party as a sinking ship, but I see it as something in need of great reform"
With his party at historic lows in the polls, Dr Hillery acknowledges he has a fight on his hands to win, but insists there's still hope for Fianna Fail.
"I don't think Fianna Fail can be written off principally because of the people I've been meeting in recent weeks. People who don't want office, but will go out on a rainy evening with me. It's very hard to see that there are people who do that and still think the party will die."
In Miltown Malbay, if your party is Fianna Fail, there's a welcome on the mat at the local bakery. Owner John Hanrahan is sticking with the party.
"With Micheal Martin getting in it might help things along. Even if they don't get in they'll be a good opposition," he said.
But at the farmer's market in the town of Ennis, in the heart of Clare, anger with Fianna Fail is palpable.
"Sure, they have the country destroyed," said one farmer who used to vote Fianna Fail.
Another former party loyalist said he was "sick of the whole lot".
Yet another said Fianna Fail's prospects in Clare "were never poorer".
Over at the local newspaper, the Clare Champion, editor Austin Hobbs says Fianna Fail only has one safe seat in Clare now, while Fine Gael has two.
He suggests Dr Hillery faces a tough battle against Labour and an independent candidate for the final seat.
"The name Hillery would be well recognised in west Clare and there are a lot of strong family connections there," he said.
"But he has to pull votes from all across the county and at this stage history is history, it's the here and now that people want to deal with."
However, Mr Hobbs says it's very hard to predict how Fianna Fail will fare overall.
"Well, they're certainly going to be in the wilderness for five years. I don't know that it's going to be the massacre that people think. They will enjoy a bit of a bounce with Micheal Martin"
Over at St Bridget's shrine in the Cliffs of Moher on the west Clare coast, where pilgrims were marking her feast day, not everyone was Fianna Fail, but there were a few in a forgiving mood.
"I'm going to vote Fianna Fail. I'm glad they didn't take my pension off me and that's what I vote for," said one pilgrim.
While another woman was far more unconditional.
"I've always voted Fianna Fail and I will while I'm in this world," she said.