Former dentist Howell gives evidence at murder trial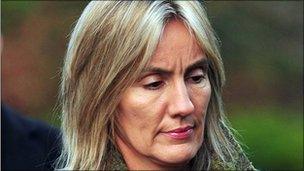 Convicted murderer Colin Howell told a court his former mistress had no moral objection to murdering her husband and his wife.
Howell, 51, gave evidence at Coleraine Crown Court on Monday in the murder trial of his ex-lover Hazel Stewart.
He said Mrs Stewart was not convinced they could get away with making Trevor Buchanan and Lesley Howell's deaths look like suicide.
"I remember the word crazy being used by her," he said.
"That was nature of the objection Hazel gave to me."
Howell said her concern was over being caught, not about the concept.
"I remember her saying 'if I get caught I will slit my wrists before they come to get me'," he added.
Howell, who admitted the double murder, said he put the plan to Hazel Stewart, 47, when they met in her car on an isolated road a week before the murder in May 1991.
The bodies of Mrs Howell, 31, and Mr Buchanan, 32, were found in a fume-filled garage in the seaside town of Castlerock.
Mrs Stewart, from Ballystrone Road, Coleraine, denies entering into a joint-enterprise with Howell to murder their respective partners.
But Howell claimed Mrs Stewart "understood the plan".
He described how on 19 May 1991 he connected a hose to his car exhaust and ran the hose into the lounge where Lesley was drugged and asleep on a couch.
She woke briefly and called out for eldest son but within minutes she was dead.
Colin Howell then spoke with Hazel Stewart on the phone, telling her: "I'm finished with Lesley. Is everything ready? I'm coming round."
He then put his wife's dead body in the boot of the family car and drove to Trevor Buchanan's house where he murdered the policeman.
Howel then took the bodies to a garage behind Cliff Terrace in Castlerock and made it look like a suicide pact by connecting the hose to the exhaust, switching on the engine and leaving the premises to fill with fumes.
He explained why he had confessed to the crimes two years ago. The former dentist is serving a 21-year sentence at Maghaberry prison.
"I just knew that the time had come that the truth had to be told," Howell told the court.
Howell also revealed how Mrs Stewart had an abortion in 1990 because she was not sure if the father of her unborn child was her husband's or Howell's.
He said it was a critical moment and they were faced with two options, either confess to the affair or have the abortion.
"The game would have been up. The affair was still clandestine. I didn't want the relationship to end," he said.
Howell recalled in court how and why his affair with Mrs Stewart had developed in 1990.
He claimed he and his wife Lesley had had relationship problems before their marriage in 1983 and that these had deteriorated as the years passed.
Howell claimed his wife had started to express doubts about why they had got married in the first place and that he had lost his motivation and had "begun to look around".
"We came into the marriage with unhappiness between us but we both sincerely wanted it to work, but it didn't," he added.
Howell said he had got to know Stewart, who also attended his church, when she worked as an assistant in the playgroup his children attended.
He said they grew closer when they both took their children for swimming lessons.
"She approached me and said she was impressed with the way I was doing my front crawl," he said.