Man charged after stabbing in west Belfast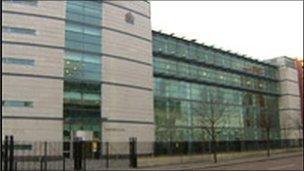 A man stabbed in the neck and head in west Belfast needed emergency surgery to stop him bleeding to death, a court has heard.
The 25-year-old victim sustained deep cuts in an attack near a bar on the Andersonstown Road on Saturday night, police said.
Michael Marron, 25, from Glassmullin Gardens, Belfast, was charged with attempted murder and possession of an offensive weapon in a public place in connection with the incident. He was granted bail on Monday.
However, Marron was banned from entering the west of the city.
An investigating detective said Marron was arrested following descriptions provided by the victim and another witness.
The police officer told Belfast Magistrates Court that blood was found on a towel and top Marron had been wearing.
It was alleged that the accused had failed to provide an alibi or clarify his movements on Saturday night.
Opposing bail, the detective told the court: "As a result of the attack on the injured party, he sustained a serious, deep laceration across his head, face and neck area.
"He required emergency surgery to stem the bleeding as he had sustained an arterial wound which could have proved fatal."
Defence solicitor Fergal McElhatton said the victim had been drinking from nine hours before the incident, according to another witness account.
The court heard the man had been watching a televised football match and was in two separate bars during the day.
One witness claimed there was a "slabbering session" on the stairs of the pub, Mr McElhatton said.
The lawyer stressed there was nothing to suggest his client would attempt to interfere with anyone who has spoken to police.
Marron was granted bail to live with a relative in the Glengormley area.
District Judge Fiona Bagnall ordered him to be excluded from west Belfast and have no contact with any Crown witnesses.
An alcohol ban and night-time curfew were also imposed.