NI Water criticised over delay in returning £19m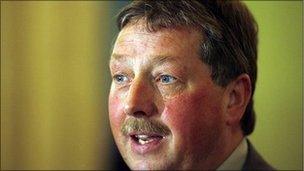 Finance Minister Sammy Wilson has criticised Northern Ireland Water for the length of time it took to hand back millions of pounds of unspent money.
Under new accountancy rules just over £19m was due.
Mr Wilson said it was particularly disappointing the Department for Regional Development had not handed back the money earlier.
A further £13m earmarked for capital projects by NIW remained unspent due to bad weather.
The total amount handed back by all departments was just over £54m and much of it has been re-allocated.
However, it is understood that around £13m may have to be handed back to the Treasury because there was not time to reallocate it.
Related Internet Links
The BBC is not responsible for the content of external sites.