Farmer may have been killed after 'robbery went wrong'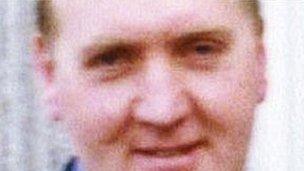 A farmer beaten to death in County Armagh may have been murdered in a "robbery gone wrong", the High Court has been told.
Prosecutors said 45-year-old Victor Stewart, was thought to have kept money at his isolated home in Middletown.
The claim was made during a bail application by the man charged with murdering him in October 2008.
Peter Joseph Moloney, 23, of Drumarg Park, Armagh, is also accused with stealing a safe from the property.
The suspect's father, also called Peter, 49, from Drumarg Villas, Armagh, faces charges of perverting the course of justice and withholding information in connection with the killing.
Charges were brought following a covertly recorded meeting last November between Mr Moloney senior and a woman who is a key prosecution witness.
Opposing the murder suspect's bail, Crown counsel Kate McKay said it was believed that the killing happened during "a robbery gone wrong".
Although there was no known connection between Mr Moloney and Mr Stewart, the court was told there would have been local knowledge of his circumstances.
"Potentially the deceased would have had money, and money in the house," Mrs McKay added.
Kevin Magill, defending, argued there was no identification or forensic evidence against his client.
"There is no connection between him and any of the stolen items," he said.
"What we have here is a case entirely based on this conversation with the witness that has been referred to."
Mr Magill pointed out that it was only two years after the murder that the woman made her statement.
He also questioned her reliability, claiming the transcripts from her secretly-taped conversation showed she had been drinking and taking drugs that morning.
The barrister disputed claims that Mr Moloney may fail to appear if released due to him having moved to the south of England for a period.
"There is no connection between (him) going to Bristol and this offence," Mr Magill said.
"He went to Bristol because of the break-up of his marriage and to try to make a clean break."
After hearing from both sides Lord Chief Justice Sir Declan Morgan adjourned the application until more information on relevant legal issues could be provided.