Northern Ireland housing market continues decline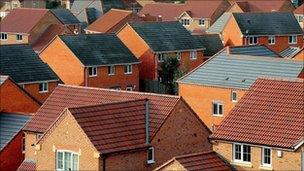 The average house price in Northern Ireland fell by 7.7% last year, but 2011 may yet see the market bottoming out, according to a leading economist.
Alan Bridle from the Bank of Ireland was commenting on the latest survey of domestic property prices.
The market has become increasingly lower priced with 63% of properties selling at or below £150,000.
At the peak of the housing boom, less than 10% of properties went for below £150,000.
However, figures show signs of stabilisation in the final quarter of 2010 with a weighted increase of 0.1%.
Mr Bridle said the market faces "further headwinds in the next 12 months, both on the demand and supply sides".
"Household incomes are falling in real terms and interest rates are likely to rise while, in reality, funding and regulatory pressures across the UK market will mean little change in the pattern of mortgage activity in the short-term," he said.
"Overall, 2011 may be the year when the local market bottoms out."
The quarterly survey, produced in partnership with the Bank of Ireland and the Northern Ireland Housing Executive, polled 110 estate agents around Northern Ireland for the final quarter of last year and found that the overall average price of a house was £149,795.
House sale figures continued to fall, with a sample of 684 transactions in the fourth quarter compared to 795 in the third quarter and 1,009 in the second.
The authors of the report, Professor Alastair Adair, Professor Stanley McGreal and Dr David McIlhatton said the difficult second half of 2010 contrasted with "tentative signs of recovery" in the first half of the year.
"It seems that the prospects for the UK economy, local fears of public sector cuts and possible contagion effects from the Irish economy may have dented confidence in the local market and that the severe weather conditions may have impacted on sales volumes in the final quarter," they said.
They added that the figures showed the housing market continued to "lack any momentum", a sentiment supported by anecdotal evidence from estate agents throughout Northern Ireland.
However, a number of agents in the Belfast area and in the east of Northern Ireland expressed greater confidence in the quarter suggesting a regional variation which is supported by the quarterly price movement.
The Housing Executive's head of research, Joe Frey, said the current state of the market had a positive side as well as a negative.
"The ongoing cost of servicing a mortgage is now much more affordable for first-time buyers and investors alike," he said. 
"The key challenge for both policy makers and lenders is to restore confidence in the market, and in particular facilitate a more relaxed lending regime where the size of deposits is not such an insurmountable hurdle."
Related Internet Links
The BBC is not responsible for the content of external sites.