MLAs urged to work late and book into hotels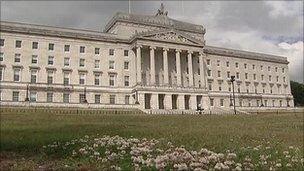 MLAs have been encouraged to book overnight accommodation in hotels in a bid to complete as much work as possible before the Assembly term ends.
The Assembly's Head of Finance said the heavy legislative programme requires a significant commitment by MLAs before the Assembly is dissolved on 25 March.
Paula McClintock issued an email on Monday, as members prepared to sit past midnight.
She reminded MLAs they can spend up to £130 a night on a hotel.
Ms McClintock said it was timely to remind members and party support staff of the existing provisions within the financial support network in respect of using hotels for overnight accommodation.
This applies when an MLA's duties require them to be at parliament buildings late into the evening with further Assembly duties planned early the following day.
The maximum amount they can spend on a hotel is £130 a night. Members are not allowed to claim for hotels within their own constituency.
An Assembly spokesperson said that so far one member had arranged hotel accommodation for Monday night when the Assembly is due to sit past midnight.