Alliance MLA calls on SDLP to 'quit the Executive'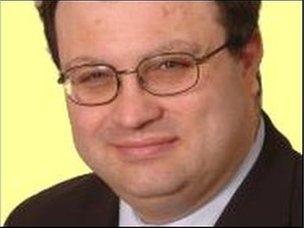 Alliance MLA Stephen Farry has challenged the SDLP to quit the Executive if it cannot support the draft budget.
Mr Farry accused the SDLP of "gesture" politics after it sought to amend a motion by the Finance Minister.
Mr Wilson's supply resolutions would give the Executive the legal authority to unlock billions of pounds in the block grant.
But the SDLP is seeking to amend the motion.
Mr Farry said the only "honest and coherent" approach for the SDLP is to leave the Executive.
The SDLP amendment seeks to divert more than £20m from various departments in a bid to cut travel overheads and consultancy fees.
The party has yet to support the draft budget.
The SDLP's Alban Maginness challenged Mr Farry on his own party's stance.
He pointed out that the Alliance leader and Justice Minister, David Ford, had supported a budget which Mr Farry described as "full of holes".